Important Dates:
Deadline for Paper Submissions: 30 Nov 2021
AICA 2021, held in March 2021 (www.aica2021.org), has been the first of a series of conferences devoted to Autonomous Intelligent Cyber-defence Agents. It presented the state of the art in Autonomous Cyber Defence and discussed issues, gaps and challenges. The peer-reviewed contributions sessions and panels call for further research and contribute to creating a wider AICA research & technology community, built around the AICA International Work Group, main organizer of the conference.
To reflect and build on the conference results, the Journal of Defence & Security Technologies (JDST) issues this Call for Papers for a Special Issue dedicated to AICA studies. This Issue intends to continue discussing views, challenges and work in progress about AICA agents.
Faced with future hugely complex networks, systems and infrastructures on one hand, and with the anticipated huge growth of safety-critical autonomous systems on the other hand, human operators will not be in a position to monitor the cybersecurity of these assets and will not be able anymore to respond to cyber-attacks at the speed, scale and level of complexity needed. For instance, on the battleground, when Intelligent Things fight Intelligent Things in the future, Autonomous Intelligent Malware (AIM) will seek to disable our defence platforms, networks and command and control systems. Our complex networks and systems and/or autonomous military systems and infrastructures will not work without embedding trustworthy autonomous cyber-defence technology that will fight autonomous intelligent malware and other forms of cyber-attacks at speed and scale. Autonomous intelligent cyber-defence Agents - AICA agents - will be a key enabler of our future military networks, devices and combat doctrines. And the AICA technology will be dual also as it will defend also civil networks and systems. 
Interested authors are invited to submit an original contribution on all aspects of AICA. For reference here below you can find a summary of the thirteen research challenges raised by the AICA IWG: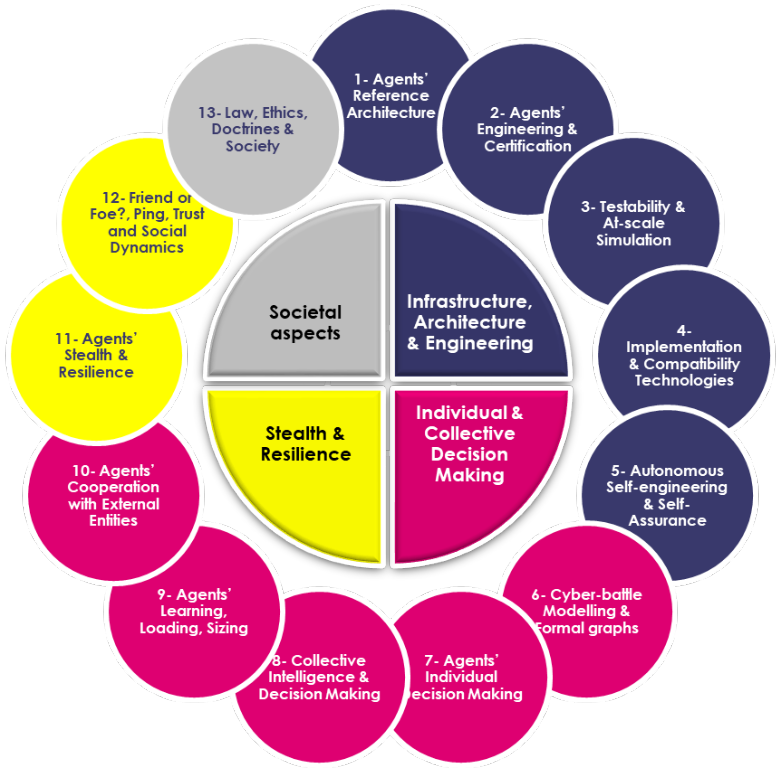 SUGGESTED TOPICS 
    • How should AICA agents make decisions in a complex environment and what types of decisions could those be?
    • What should the structure of background knowledge and knowledge bases be that are used by AICA agents for making decisions and learning?
    • How will such agents work and operate when confronted with malware agents, which can themselves be also autonomous and intelligent while possibly working in swarms?
    • How should agents collaborate with one another to enhance their understanding of the cyber battlefield and to share/enhance their own resilience as well as their fighting and learning capacities?
    • How will AICA agents and multi agent systems be attacked by adversaries?
    • How will AICA agents anticipate, repel, and be resilient in the presence of attacks by adversaries? 
    • How should we make an AICA single or multi agent system resilient to attacks that will target them?
    • What are the appropriate models of trust for AICA agents?
    • How will agents learn with limited memory and computing resources?
    • How will agents dynamically form and engage in heterogeneous teams?
    • How will AICA systems interact with humans?
    • How should an underlying AICA architecture and infrastructure support the above goals?
    • What are the ethical, legal, rules of engagements and societal implications of AICA agents and similar but offense-oriented technologies?
    • What are the possible military/intelligence applications of AICA agents?
    • Protocols, measurements and methods to evaluate AICA agents.
PAPER SUBMISSION
Authors are invited to submit full, original research papers (prototypes, experiments, state of the art,  lessons learnt, perspectives) describing novel research and advances relating to all aspects of AICAs and written in English. Papers should be at least 10 pages and at most 20 pages long and follow the JDST format guidelines. Authors can download the Word template at http://www.jdst.eu/sites/jdst.eu/files/cfp_templates/jdst_template_resea.... Submissions not following the format guidelines will be rejected without review. Accepted papers will be posted electronically on the conference web site. When the Issue is completed, it will also be published in hard copy format and each paper will be indexed in DOI. Authors of AICA 2021 accepted papers are strongly encouraged to extend and submit their paper for inclusion in the Special Issue. Submissions should be made electronically in PDF format to the address info [at] aica2021.org. 
CHIEF EDITOR
Nicolai Stoianov, Bulgarian Defence Institute, Bulgaria
GUEST EDITORS 
V.S.  Subrahmanian, Dartmouth College, USA
Paul Theron, Thales, Cyb'Air Research Chair, France 
Alessandro Guarino, StAG, Italy
S. Jay Yang, Rochester Institute of Technology, USA
Nathaniel Evans, Argonne National Laboratory, USA
Noam Ben-Asher, Boston Fusion Corp., USA
CONTACT POINTS
info [at] aica2021.org
www.jdst.eu