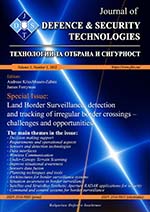 Issue editors: Andreas Kriechbaum-Zabini, James Ferryman
In the last years irregular migration has decreased in Europe. In FRONTEX's annual risk analysis 2020 risk it is shown that the number of detected illegal border crossings at Europe's land borders – the area between border control points - is increasing. An essential task for border guards is to detect irregular border crossings by illegal migrants using vehicles; such migrants seek to cross borders in small groups in difficult vegetation such as forests, where the traffickers cannot be detected by current technologies. Solutions are needed to provide border guards with improved situational awareness of border regions including robust detection of people and vehicles, including groups, recognition of abnormal behaviors and prediction of routes of individuals and small groups.
To reflect on these developments, the Journal of Defence & Security Technologies (JDST) issues this Call for Papers for an Issue on "Land Border Surveillance, detection and tracking of irregular border crossings – challenges and opportunities".