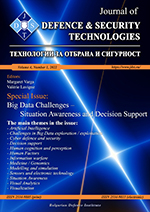 Issue editors: Margaret Varga, Valérie Lavigne
The NATO Science and Technology Organization (STO) recently organized a multi-national workshop on "Big Data Challenges – Situation Awareness and Decision Support". The aims of the workshop were to raise awareness of: common and different problems; available and foreseen technologies; capabilities and efforts; and also, to support the development of research collaborations.
The themes of the workshop explored how the availability of big data, as well as technologies to exploit big data, may assist the military in understanding the situations they currently encounter and will encounter, and how these may support them in making better decisions. The challenges for the development and opportunities for the exploitation of Big Data are likely to vary from domain to domain. The workshop was composed of presentations and discussions relating to a broad spectrum of potential (military) domains.
This Issue intends to continue discussing views, challenges, and work on the use of big data to support the military with obtaining situation awareness and informed decision making.